New with stage 3 re-opening:
The province has permitted Lambton to move into stage 3 of reopening starting July 24, 2020.

Social gathering limits have increased in Stage 3:
Indoor gatherings are limited to a maximum of 50 people
Outdoor gatherings are limited to a maximum of 100 people.
Continue practicing physical distancing from people outside your social circle.
Social circle limits remain at a maximum of 10 people
Frequently Asked Questions
Are there any exceptions to gatherings?
• Gathering limits do not apply to select settings such as restaurants and bars, but measures to enable physical distancing may limit capacity at any given time.
• Indoor religious services, rites or ceremonies, and wedding ceremonies or funeral services, can continue to operate at 30 per cent room capacity
• This web page provides general guidance on gathering restrictions. For full, setting-specific details, please review: A Framework for Reopening our Province: Stage 3

How to determine the number of people allowed to gather:
• People at their place of work, including performers and crews, do not count towards gathering limits.
• Indoor gathering limits apply to events that are fully or partially indoors. Indoor events and gatherings cannot be combined with an outdoor event or gathering to increase the applicable gathering size.
Physical Distancing
What is Physical Distancing?
As the name suggests, it means keeping a distance of at least 2 metres (6 feet) from others.
This means making changes to our everyday routines to minimize close contact with others to prevent the spread of COVID-19.
Why should you practice physical distancing?
Physical distancing saves lives. By reducing the amount of people that you contact, you reduce the spread of COVID-19.
Practicing physical distancing can reduce the strain on the health-care system. If people are not sick at the same time, there's greater capacity for hospitals to care for you if you or a loved one does get sick.
Therefore, you should continue to practice physical distancing at all times, before a potential infection with COVID-19 and before any symptoms.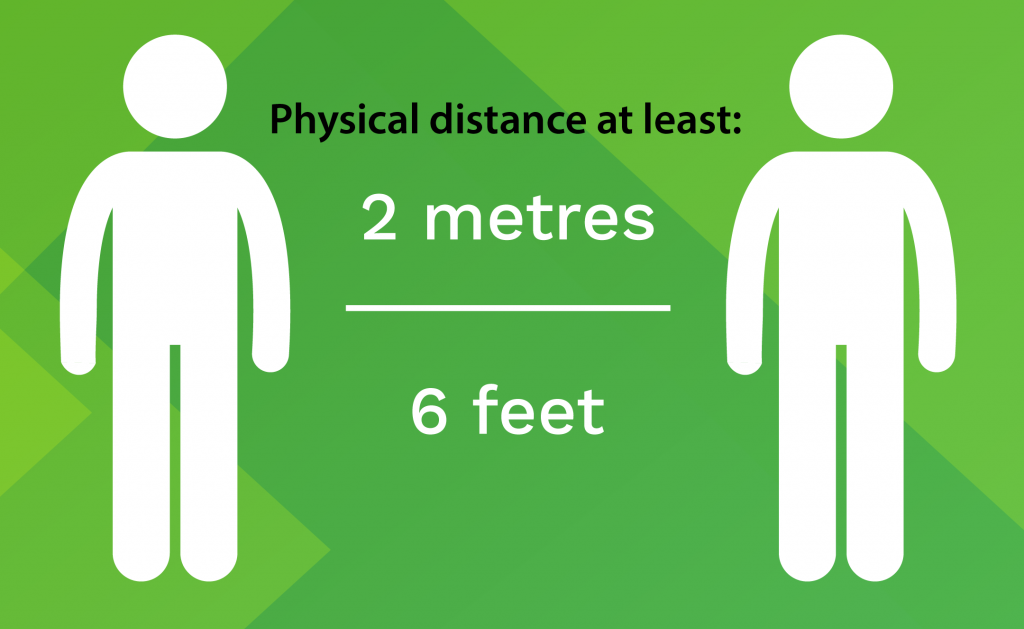 What can I do to practice Physical Distancing?
Run essential errands
Exercise while keeping your distance from others.
Conduct essential work in the community while maintaining physical distance.
Continue to:
Avoid crowded places and non- essential gatherings.
Avoid common greetings, such as handshakes.
Limit contact with people at higher risk, like older adults and those with health issues.
Politely remind others to keep a distance of 2 metres.
Stay home as much as possible
Wash your hands often, avoid touching your face, and practice proper cough/sneeze etiquette
Wear a non-medical face covering when physical distancing is not maintainable
---
Social Circles
What is a Social Circle?
In Stage 3, the province continues to recommend social circles of no more than 10 individuals.
The people within this bubble can interact without practicing physical distancing.
What is the point of a Social Circle?
Creating a "social circle" will help to ease the burden of the COVID-19 pandemic and associated public health measures on Ontarians while minimizing the risk of virus transmission.
Social circles:

Support mental health and well-being and reduce social isolation.

Provide options for individuals and families that may need to receive additional support from people outside their household (e.g. with child care, elder care).

Provide guidance on how to expand social contact while still reducing risk.
Facilitate rapid contact tracing by limiting the number of close contacts, in the event of a case of COVID-19.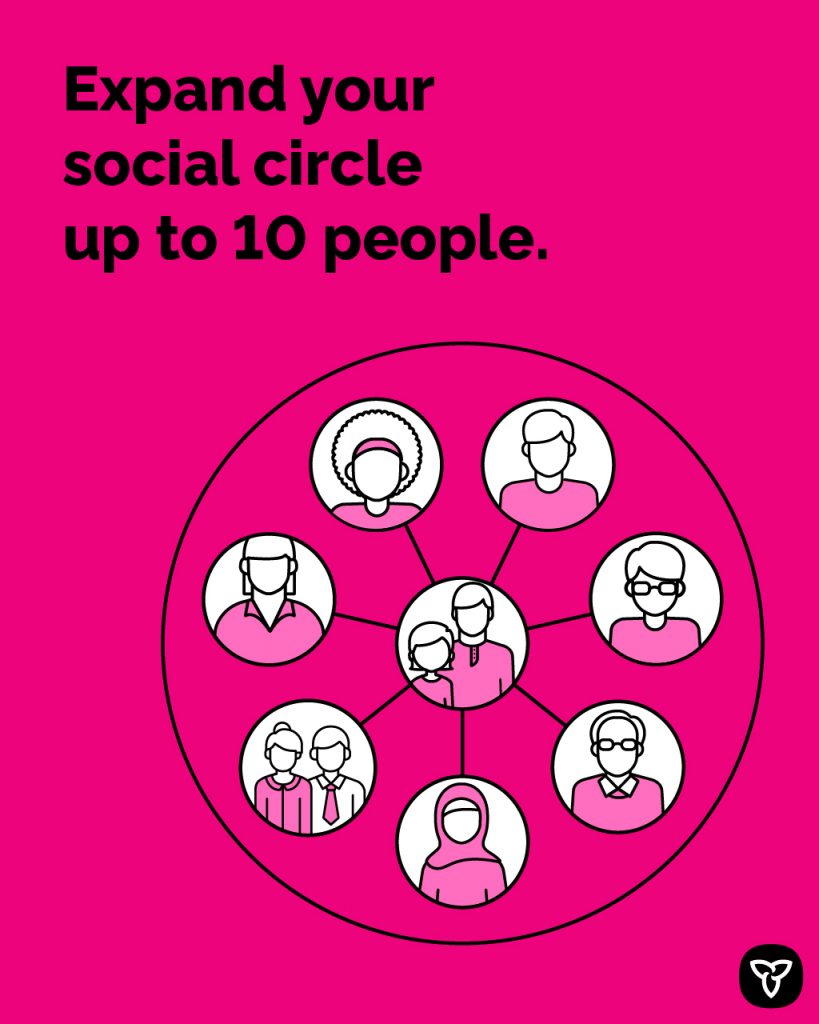 How can Social Circles reduce the risk of COVID-19?
Limiting close contact to your social circle reduces the number of opportunities for exposure to COVID-19
Restricting close contact to the family or social circle will help keep the number of contacts low in the event a member of the "circle" becomes infected with COVID-19.
How do I create a Social Circle?
Step 1: Start with your current circle: the people you live with or who regularly come into your household.
Step 2: If your current circle is under 10 people, you can add members to your circle, including another household, family members or friends.
Step 3: Get agreement from everyone that they will join the circle.
Step 4: Keep your social circle safe. Maintain physical distancing with anyone outside of your circle. Step 5: Be true to your social circle. No one should be part of more than one circle.
For more information visit the province's guide on creating a social circle.
Social Circle Considerations
At this time, large households may not be able to add additional people to their circle, as it would exceed ten people.
Individuals at higher risk may wish to not participate in a family or social circle, limit the size of their circle, or limit the amount of interaction with their circle. This includes:

People at higher risk of contracting COVID-19 (e.g. people who work or volunteer in health care or other settings where close contact is not avoidable); and

People at higher risk of severe illness (e.g. individuals over 70, and those with compromised immune systems or underlying medical conditions).

While physical distancing does not need to be practised between members of the same circle, other public health advice, including frequent hand washing, should be followed.
Anyone who is feeling ill should immediately self-isolate from their social circle and seek testing if they have COVID-19 symptoms by visiting one of the assessment centres in Lambton County.
Social Gatherings
What's the difference between Social Circles and Social Gatherings
Social Circles:

Allow close contact (ex: hugs, physical distance <2m)

Must always be the same people

You can only belong to one social circle
Social Gatherings:

Maintain physical distancing (at least 2m) with people outside your social circle

Can be any group of people

You can gather with different groups of people

Maximum of 50 people indoors or 100 people outdoors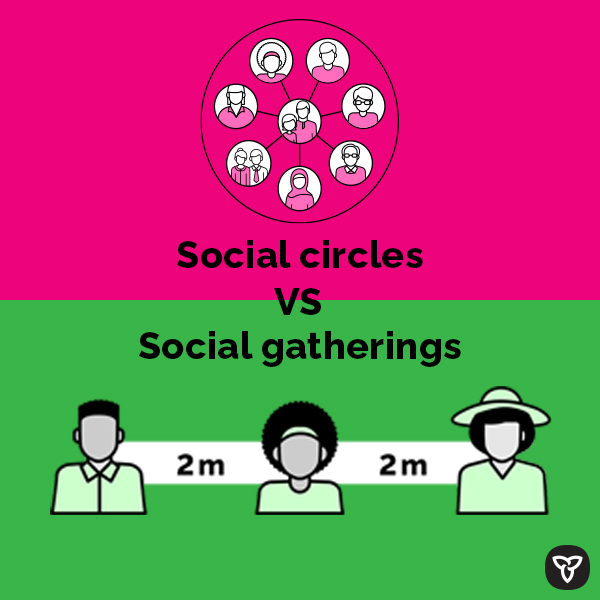 As Lambton continues to shift with reopening phases, it is still important to practice good public health recommendations. To help you maintain physical distancing, many businesses are changing how they operate as they reopen to ensure your safety. Please visit our Workplaces page to learn more about how physical distancing and gathering sizes will be handled in different settings.
Tips and Resources
Some more tips for maintaining physical distancing
Work:

Work from home if and when possible

If you are required to work on-site ensure your office space is set up to accommodate 2m between you and your co-workers

Use teleconferences or virtual meetings when possible to ensure physical distancing

Gatherings:

No more than 10 people at gatherings

Maintain physical distance (2M) at all times

Avoid high droplet-producing activities such as singing and dancing in public settings

Greetings:

Avoid hugs, kisses, handshakes, etc. when meeting someone who is not part of your social circle

Think critically and self-assess before visiting high-risk individuals in places such as:

long-term care and retirement homes

communal and assisted living residences

Shopping trips:

Don't take the whole family out when possible

Plan to go during off-peak times to avoid crowds

Avoid long lines and crowding points of entry/exit

Other:

Limit the number of people in elevators. Wait for the next elevator to ensure physical distancing is maintained with people outside of your social circle.

Remember to wear a face covering if in situations and settings where physical distancing is unable to be maintained.
Resources: