Point Edward, ON – Lambton Public Health (LPH) officially began its COVID-19 Immunization program today at Trillium Villa Nursing Home, in Sarnia.
The first recipient of the vaccine was Valerie Verberg, a resident of the Steeves & Rozema long-term care community.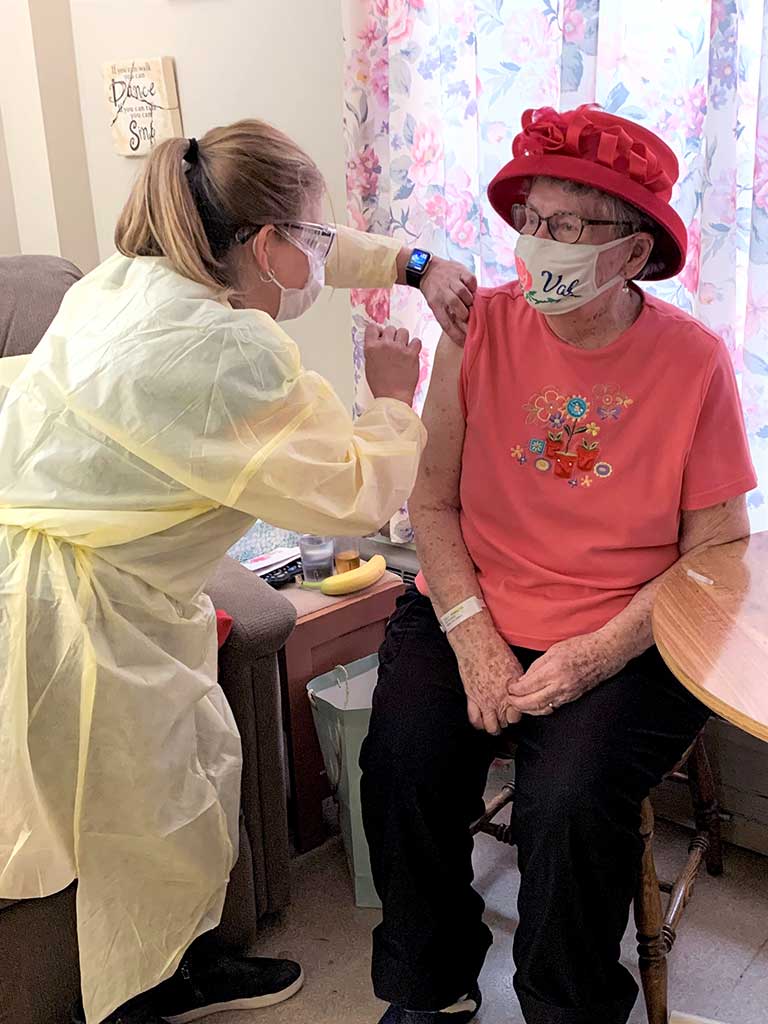 At 88 years young, Valerie was thrilled to be the first recipient of the COVID-19 vaccine. "I feel great," she said. "I can't believe I was the first one!"
Trillium Villa was chosen as one of the first sites to receive the vaccine based on its level of risk due to its size and older design. Immunizations will continue this week until LPH administers all of the currently available doses of the Moderna vaccine. A small additional shipment of the vaccine is expected to arrive the first week in February, which will enable continued immunizations of the first priority groups.
"Vaccines are an important tool in helping stop the spread of this virus," said John Scotland, Chief Executive Officer, Steeves & Rozema Group. "Equally important, they are the first step in resuming a level of normalcy for residents, caregivers and staff living, visiting and working in Long-Term Care. We are absolutely thrilled to have Trillium Villa residents be amongst the first in the area to receive the vaccine!"

Kim Van Dam, Administrator at Trillium Villa, is excited about the day's big event. "Today is a great day," she said. "We are finally taking the first steps in eradicating COVID-19. We are happy to work alongside our community partners and offer this vaccine to our residents today. It offers us all hope for a brighter future, keeping our residents and our community safe and healthy!"
Phase 1 (February – March/April 2021) of the provincial government's immunization plan involves a number of eligible groups. The current priority within those groups are the residents of long-term care homes, high-risk retirement homes, and Indigenous Elder Care residents. Other eligible groups within Phase 1 will be immunized as more of the vaccine becomes available including essential caregivers, healthcare workers, adult indigenous populations and recipients of chronic home healthcare.
"It is encouraging that our region is now able to begin vaccinating priority populations," said Dr. Sudit Ranade, Medical Officer of Health for Lambton County. "But, it remains essential that our community continues to follow all the provincially regulated health measures including maintaining physical distancing, washing your hands frequently, wearing a face covering/mask, and limiting contact to people within your own household. The virus continues to spread rapidly in our community and these public health guidelines are critical to ensuring the health and sustainability of our hospital and other systems."
Please visit getthevaccine.ca to learn more about how you and your family can access the COVID-19 vaccines as they become available in the community and check back often as information will be updated frequently. This dedicated section of the website will feature updates on the immunization plan, Frequently Asked Questions, videos and more.
-30-
Please contact: